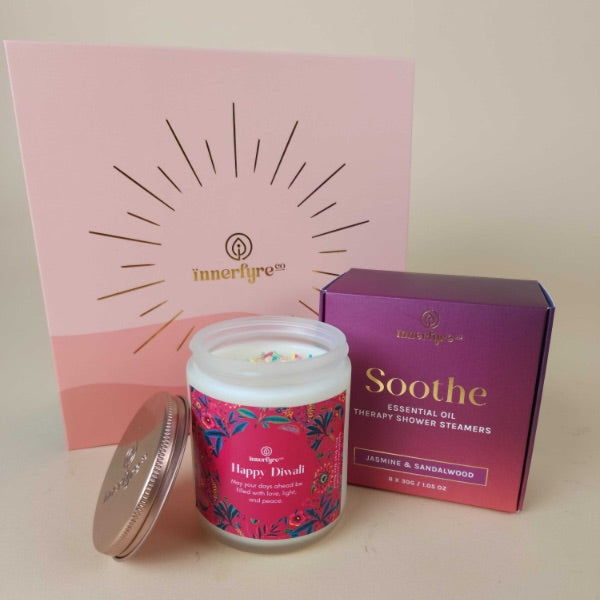 lluminate & Refresh Deluxe Duo | Deepavali Gift Set
Original price
$55.00
-
Original price
$55.00
Celebrate the Festival of Lights with our Illuminate & Refresh Deluxe Duo. This exclusive gift set radiates warmth and positivity, making it the perfect Deepavali gift.
The Illuminate & Refresh Deluxe Duo Gift Set includes:

250g Diwali Candle
Box of Scented Shower Steamers of your choosing
Deepavali Gift Box

Diwali Candle (250g)
Infuse your space with the soothing, festive scents of our Diwali Candle. Made from a luxurious blend of coconut wax and rice bran wax, this candle is more than just a beautiful addition to your decor. It's an aromatherapeutic experience designed to elevate your senses and fill your home with positivity. The vibrant colored rice sprinkles on top pays homage to the traditional Rangoli, adding an extra touch of cultural richness.

Box of Scented Shower Steamers (8 pieces)
Unwind and relax with our Scented Shower Steamers, made from 100% pure essential oils. Choose from Innerfyre Co's five invigorating varieties to suit your mood. Whether you opt for the invigorating Eucalyptus & Mint or the soothing Lavender & Patchouli, these steamers transform your daily shower into a spa-like experience.

Deepavali Gift Box
Each Illuminate & Refresh Deluxe Duo is elegantly presented in a gift box, making it a thoughtful and luxurious Deepavali gift for your loved ones. Illuminate hearts and refresh spirits with this delightful gift set.
Order now and experience the magic of Deepavali with Innerfyre Co!